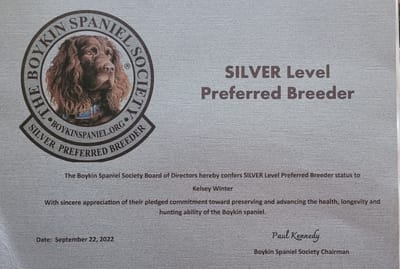 Hard work blood sweat and tears have paid off for us here at Copper Creek we have made the Silver Level breeders list for our Boykin Spaniel breeding program. We seek out the best of the best when it comes to picking out our females to bring into our home and we seek out proven top tier males to breed out females to all our females are tested and held to the Boykin Spaniel Society testing requirements and then some all our females are kept up on vet appointments fed high quality food and supplements. After all these girls are our family hunting partners and companions.
Each pup is held picked up feet touched tails played with ears messed with hand fed exposed to loud noises changes ect. to get all pups completely comfortable for their new homes and lives ahead!

We could not be where we are at today with out the love and support of our puppy families our family and friends and everyone else that's helped us along the way!